Every day in TV, the News Media have been Reporting nothing but Negative News. Not Holiday Good News at all. I'm talking ALL Y'ALL GONNA pay more, more, MORE! For EVERYTHING! Fewer TURKEYS this Thanksgiving. Nothing is going Positive if you Listen to everything that they say.
Higher Turkey Prices. TRUE!
Fewer Turkeys. TRUE!
HIGHER GASOLINE PRICES! TRUE!
HIGHER AIRLINE TICKETS. TRUE!
YOU RISK A 1 IN 3 CHANCE OF BEING ON A PLANE WHERE A PASSENGER INCIDENT TAKING PLACE. TRUE!
SHORTAGES OF EVERYTHING! BULLSHIT!
Grocery STORE SHELVES EMPTY. BULLSHIT!
HIGHER PRICES FOR REAL CHRISTMAS TREES!
You have a One in Three Billion Chance to get a ride on BLUE ORIGIN flight to see some SPACE. NOT MUCH! But only the SPECIAL are being allowed the Trip and only based upon How Much Publicity that person will Bring to Elon Musk. But mostly-IN YOUR FACE REMINDER! YOU Ain't GONNA ever BE ONE!
CARGO SHIP CONTAINERS BEST USE EVER! OPERATION STEEL CURTAIN
👇😩👇😩👇😩👇😩
Greg Abbott@GregAbbott_TXTexas National Guard & Texas Dept. of Public Safety continue to create a steel wall along the southern border. Large shipping containers, resources, & personnel are being used to protect communities & property owners. Texas is securing the border.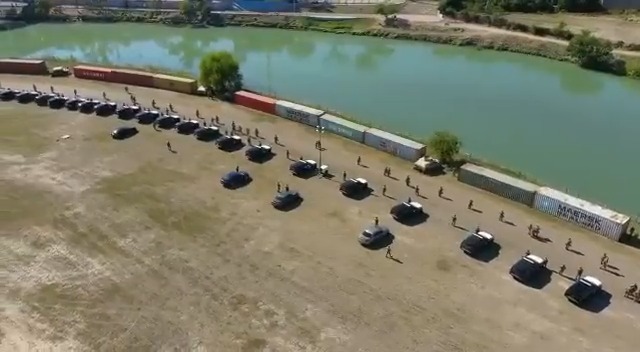 A Full Investigation into WHO ORGANIZED and PAID for each CARAVAN needs to take place. And those paying for them ARRESTED!
Illegal "Just Swim the Rio Grande" has to End!
Fewer Toys Available!
Millions of Items sitting in Cargo Ship Container Shipment Yards with no where to Go. Why hasn't a Military General with Logistics been put in Charge?
But I PROMISE YOU that there isn't all of nothing but Negative News out there that we ARE BEING FED!
Good Things are taking place.
Doctors and Nurses are working just as Hard to keep all of us Well.
Biden Released 50 Million Barrels of Crude Oil from the U.S. STOCKPILE RESERVE to help LOWER Gasoline Prices. Price Gouging has been Reported.
More Americans are giving More Money to Help Feed more needy Americans than ever before.
More Acts of Kindness are On the Rise and taking place and Not the Opposite.
More JOBS are available than ever before.
More Americans Do Care about What is going on, on Our Border and with The Immigrants wanting to become Americans. Americans do Care and are Not Heartless like some are Portraying 🇺🇸. But those Creating Large Unlawful & Organizing Illegal Caravans while Promising immigrants Lies has to End. USE THE LEGAL METHODS available to you and Not Unlawful Ones.
But Look at the Things that are Good!
Samsung to Choose Taylor, Texas, for $17 Billion Chip-Making Factory
Announcement is expected at Tuesday event to be attended by Texas Gov. Greg Abbott
Samsung, the world's largest semiconductor maker by revenue, plans to invest more than $205 billion over the next three years, with chip-making a priority.
https://www.google.com/amp/s/www.wsj.com/amp/articles/samsung-to-choose-taylor-texas-for-17-billion-chipmaking-factory-11637627613