So, what do you think might cause me to write such a Title?  Simple, I haven't given-up on Man.  No, I haven't.  And so should you…
Have you learned anything?  I mean really Learned anything from this Pandemic?  Has you not seen hauntingly visible examples of human bravery?  Have you not seen amazing examples of extreme kindness?  And how about Countries coming together to Aid each other. 
Sure, the same similar Bullshit Political And Ideological Rhetoric continues about as stupidly as it was going on before the Pandemic.  But I hope you will take a moment to see how similar our Greatest Happinesses and Sadnesses are for everyone in the whole WORLD.  Ultimate Happiness comes with the birth of a son or daughter.  Sorrowful Sadness comes with the passing of a beloved family member or friend or coworkers.  Whew, that's two similarities that everyone who Reads my Blog from Over 87 Different Countries will see too.  And right down the line, mankind is the same.  Yes, the same.  But by now, each of us know why each of us are where we are.  Are you should. 
And we know why we think differently from each other.  But there truly is a thin line between Love and Hate.  And no matter how hard you want this or that, we get what we deserve to get to a large extent.  Yes. Each of us only strive so far.  Far lower than we can ever achieve.  But that's the truth. 
When I wrote A Panther's Father, I had an incredibly burning flame in me to try ending all the Racial Hatreds here in America.  And yes, the book has had a ton of 5-STAR REVIEWS, but getting it in front of the right person that reads it is truly like looking for a golden needle in a tall hill of Straw.  I'm thinking a million to one in Odds.  But I'm just happy I wrote it.  Books Two and Three came out, but I still believe the 1st one beats the other two by far.  And although I have finished Book Four over Six Months ago, I've never sent it in to the Publisher.  
Part of that reason is that there are four love scenes in the 4th Book in the Series that I didn't have in the 1st three.  And I'm not sure I want to know how YOU, the Reader, will feel about that? My worst fear is to Offend you.  And we'll, one day, may be I'll send it in. 
That's a Selfie I took today because I cut my own hair…lol. 1st Time ever…
My Cardiologist already told me not to Waste Time because He said I'm living on borrowed Time.  Am i?  R U?  R we? 
But Hope.  The all important word-Hope-that each of us must cling to, to hold to until our last breath.  And if I can leave you with this one word. Then let me leave you with Hope.  Hope for you. Your Family.  Your Happiness.  And your Country.  And to take a huge, mysterious journey down the Darkest Rabbit Hole you'll ever go, then please read A Panther's Father and if you stay the Course and Read all of it, it will change your Life and give you the Hope you seek NOW more than ever. Enjoy!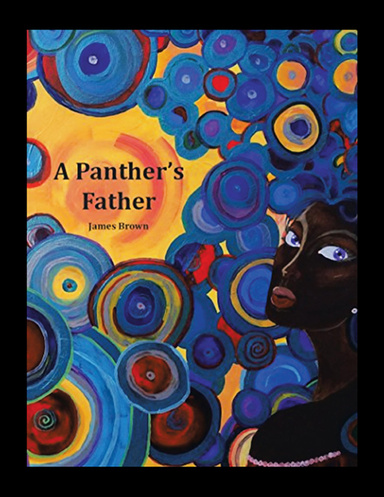 A Panther's Father, is a book of hope, caring, and human engagements revolving around the Roosevelt Family from New York City. "Granny Z" Roosevelt is New York City's 105-year-old storytelling narrator. Her son, Richard and Buster Brocks fall victim to a jungle ambush during the Vietnam War. Both endure rehabilitation. Buster receives the Medal of Honor. Taneeka, Richard's wife, Richard, and Buster then get their UCLA Degrees. Both men join the LAPD reaching the rank of Supervisors. But the time-period is the volatile early 1970's and deep racial conflict bears down upon them and the LAPD. But their careers are jeopardized as Shooters from a foreign Country seeking revenge against America engage in Drive-By Shootings in Los Angeles. And there are thoughtfully provoking tales about Ruth, Angels, Pontius Pilate, and God's revenge upon slavers that a reader won't quickly forget.
Details
Publication Date

4/13/2018

Language

English

ISBN

9781483482972

Category

Fiction – General

Copyright

SCL

Contributors

By (author): James Brown
Specifications
Format

EPUB